Connecting Entrepreneurial Communities 2019
Tuesday, October 1 - Wednesday, October 2
Ludington, MI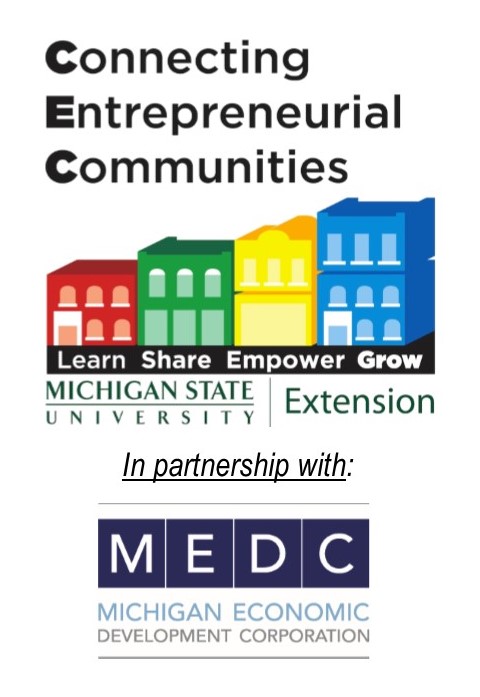 Join other like-minded communities as we learn programs and resources, share best practices and ideas, empower ourselves and others to assist entrepreneurs to grow our local communities at the annual Connecting Entrepreneurial Communities (CEC) Conference brought to you by Michigan State University Extension.
Throughout this conference, you will have a chance to learn best practices from entrepreneurial professionals across the country. Breakout sessions will be held in downtown Ludington venues--all within walking distance. Tuesday evening includes a networking event where you can continue the conversation with colleagues from both rural and urban communities.
Conference registration includes breakout sessions, lunch, a networking event, and keynote speeches from local entrepreneurs. Early bird registration is $85 and ends Friday, September 15! Normal registration is $100 until September 28. At-the-door registration is $125. Cancellations received after September 13 will incur a $35 cancellation fee.
Accommodations
There are lots of choices in the Ludington area. For a complete list and room rates www.pureludington.com/ or call 1-800-542-4600
Planning committee members contacts
Please visit https://www.canr.msu.edu/cec/contact_us
Accommodations
Michigan State University is committed to providing equal opportunity for participation in all programs, services and activities. Accommodations for persons with disabilities may be requested by contacting the event contact two weeks prior to the start of the event. Requests received after this date will be honored whenever possible.